Use the map below to find locations where you can:
Sign a Petition

Please note, the Secretary of State requires 'wet' signatures for ballot initiatives. There is no online option to sign.

Pick Up Volunteer Supplies / Return Completed Petitions

Bins are stocked with boards, petitions, pens, literature. If you need something specific, you may want to text ahead.
Some bins may have vests for collecting at ferries, T-shirts, stickers, etc.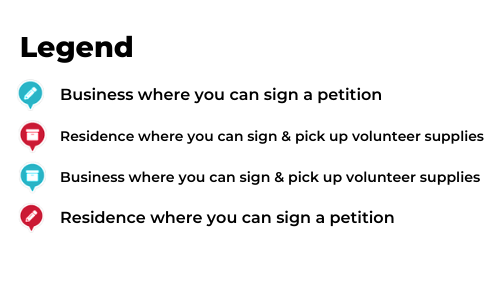 How to use the map
Click  the '+' several times to zoom in, then click to 'grab' the map and move it around  or
Use the Search box
Would you like to be a Bin Host?
Before you continue, remember that the map above, which will contain the information about yourself and your location that you enter here, is publicly displayed on our website.
Bins will be stocked with supplies for volunteers, including:

Petitions, boards, vests, literature, field kits, pens, etc.

First, check the map to make sure there's not a bin close-by already
To be a beneficial bin location, you should

be centrally located in your area
have a covered area out of the weather and
have safe, free parking while petitions are dropped off or picked up

You may need to supply a bin. A plastic tub with a lid works great.

We'll work with you on stocking it
Are you with a Business that would like to Host a Petition?
Ask a Whole Washington volunteer to fill out the form for you or
Send an email to [email protected] advising that you'd like to have petitions to sign
We're grateful that you're offering your location and want to make it as easy on you as possible!