Whole Washington is a volunteer organization fighting on all fronts for Universal Healthcare
Formed in November, 2016, Whole Washington is a grassroots coalition of healthcare professionals and volunteers from all over Washington State. We organize and support efforts of transformation, not incrementalism, and we fight at both the national and state level. The ultimate goal is a national, single payer system. We endorse, organize for, and champion Medicare for All. We use all avenues available including bills through the legislature and the direct tool of democracy: the initiative process.
Mission Statement
Whole Washington is fighting for federal and state-based universal, single-payer healthcare. We can't watch our friends, family, and neighbors suffer and die because they don't have the healthcare they need. We demand a publicly-funded healthcare system that puts people over profits.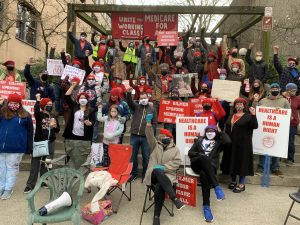 We support legislation that is publicly funded, includes everything, and covers everyone
Instead of multiple private insurance companies and multiple programs, a public trust will cover our healthcare expenses. We'll eliminate the bureaucracy of the private health insurance and save money while improving health outcomes. All services requiring a medical professional are included with no financial barriers –no copays, fees or deductibles. Dental, vision, reproductive care, mental health services, and more are fully covered. Our healthcare will not be tied to employment, age, marital status, immigration status, incarceration status, or pre-existing condition. Everyone is covered. No one is left out.
Current Legislation - The Washington Health Trust
Initiative 1471
Filed in March 2022
Signature gathering begins April 2022
405,000 signatures needed by December 30, 2022
Past Legislation - The Whole Washington Health Trust
Filed in April 2021
Campaign suspended due to Covid, August 2021
Introduced in January 2021
Re-introduced in the 2022 session
Sponsored by State Senators: Hasegawa, Kuderer, Liias, Lovelett, Nguyen, Stanford, Wilson, C.
Was not let out of committee
Introduced in January 2019
Sponsored by State Senators Hasegawa, Hunt, Keiser.
Was not let out of committee
Filed in January 2018
Based on the Washington Health Security Trust (WHST) bill
Included a financing plan based on an economic analysis by Dr. Gerald Friedman.
103,000 signatures via 100% volunteer effort but did not meet the threshold of 260,000 needed.
Received support from LD's, organizations, campaigning candidates, and elected officials. See the I-1600 Endorsements here.