Sign up for a $5 recurring donation and receive a "Healthcare that's Always There" pin as a thank you.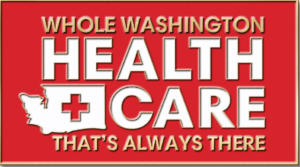 SB 5335 establishes the Washington State Universal Health Care Commission and provides universal healthcare for Washington residents. It establishes the Washington Health Trust and outlines funding, benefits coverage, provider reimbursements, and implementation. Whole Washington works to build legislative support for the Washington Health Trust, requiring majority support in the House, Senate, and from the Governor. Read more about SB 5335.
Give us a recurring donation of 5 dollars
Give us 5 minutes to comment on SB 5335
&  share with 5 of your friends!