The Whole Washington Board of Directors held their February meeting this afternoon. The Board meeting was open to the public and a recording is linked below. We hope you will join us at future Board meetings, as maintaining a close relationship between our volunteers and leadership is essential to building a grassroots people-powered movement. Please see our Monthly Calendar for upcoming meetings and events.
---
Volunteer appreciation brunch events
2023 is happening fast, but as we stare down the challenge of future campaigns we must take a moment to realize how far we have come all thanks to the tireless effort of dozens and even hundreds of amazing volunteers. You are the healthcare justice movement.
We will be holding an appreciation brunch in both Seattle and Olympia the weekend of March 11th and 12th. Details are still forming but we will be awarding some prizes for our top signature gatherers and captains as tokens of Whole Washington's appreciation for their contributions to this cause.
If you would like to help host an appreciation event near you, please let us know and we'll try to coordinate with you to organize one – our volunteers are spread across the state of Washington and we would like everyone to be able to attend an appreciation event without having to commute too far.
Please RSVP here to save the date and get updates on volunteer appreciation events:
https://actionnetwork.org/events/save-the-date-whole-washington-volunteer-appreciation-brunch
---
Our hearing on SJM.8006
Earlier this month Whole Washington had the amazing opportunity to join with universal healthcare groups like Health Care for All Washington to testify in favor of a joint resolution to Congress from our state legislature SJM.8006.
This was a non-binding resolution from the Washington state legislature requesting action from our federal Congress to establish universal healthcare. Its asks were simple:
Short of that, pass the State-Based Universal Healthcare Act to assist states like Washington trying to establish a statewide universal healthcare system (HR.3775)
Short of that, provide our state the federal waivers that would allow us to apply federal money towards our state plan, making it easier to establish here in Washington
While this was a non-binding resolution, it was also an opportunity for us to flex our muscles and testify in a public hearing of the Senate Healthcare Committee along with a unified universal healthcare movement. This resolution is on track to pass through both chambers of the legislature this session.
Here is a full video of the testimony – the comments on SJM.8006 begin at approximately 8:33 into the hearing:
https://tvw.org/video/senate-health-long-term-care-2023021347/?eventID=2023021347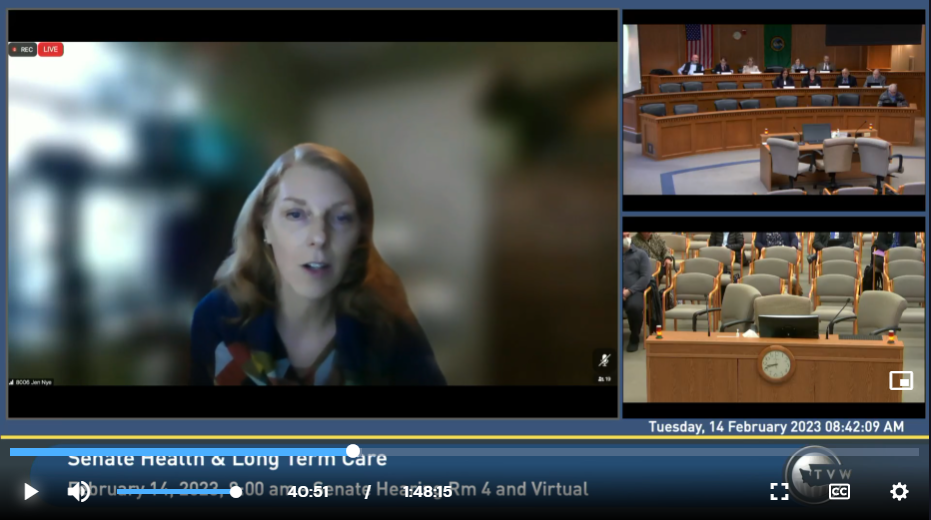 ---
A free online screening of Power to Heal in honor of Black History Month
* Tuesday, February 28th at 5:30 pm Pacific time *
"Of all the forms of inequality, inequality in health is the most shocking and inhuman" – these words from Dr. Martin Luther King remind us that healthcare inequality cannot exist in a just society.
This Black History Month we will be holding a free screening of the amazing documentary Power to Heal, which chronicles the passage of Medicare and the essential role this played in desegregating the US hospital system. It is an inspiring story of political change.
RSVP here:
https://us06web.zoom.us/meeting/register/tZMude-gpjMtGtcbT3zjfp_BcGG_Z32tw5GX
---
Thank you for your continued support and determination on this issue. The road ahead is not so long if we walk it together.
Solidarity,
Andre Stackhouse – Whole Washington Campaign Director