WE NEED YOUR HELP NOW!
For Universal Healthcare in Washington
We have only until December to get Initiative 1471 on the ballot.
Give us just 20 hours of your time over the next 4 months.
We will train you to gather signatures. We will support you. You can make your own schedule and set personal goals.
Help secure healthcare for our children and grandchildren.
You can make a difference!
---
Weekly Signature Count: 50,629
We have crossed another milestone with your help! But 50,000 signatures is only a small portion of the 400,000 we need to put universal healthcare on the ballot. Here's the bad news: We only have until December to get the signatures. But here's the good news! We CAN make that goal if you join us NOW. You can join anytime for a two-hour shift!
---
Great Places to Gather Sigs This Week
---
---
---
Please remember to RSVP through the links above if you plan on attending an event!
---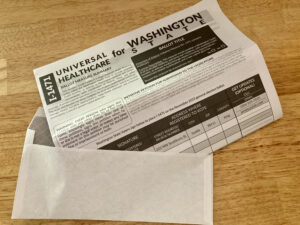 Effective immediately, we can send up to 10 petitions directly to you. This is a great way to contribute to the 400,000 signature goal! Ask your family, friends, neighbors, co-workers. Every signature gets us closer.